"….it was the best of times; it was the worst of times…" Well, actually with apologies to to Charles Dickens, the ride last weekend was the best of times. I was in search of a little mental refreshment, so Jennifer said, "Why don't you go for a long ride?" Well, I didn't need much more encouragement than that, so by 6:00 a.m. on Saturday I was gassed up and rolling for points north and west.
My goals were simple: One, I wanted to check out two of my favorite breakfast places and publish them on my blog, and two, I wanted to ride some long miles in places were there is little traffic! For any motorcyclist who lives in the LA environs, that is a worthy goal!
The BMW R1200RT is a master at eating up huge miles at high speeds. And so the adventure began as I shook off the damp, chilly, coastal air for the warmth of the deserts. I sped north on Interstate 5 past the sprawling suburbs on my way to CA 166 in the Central Valley.
I never get tired of the vista as I make my way north past Frazier Park; suddenly the mountains fall away, and the Great Valley, breadbasket to the world, spreads out in patchwork lushness in front of my spinning wheels! What a panorama!
CA 166 between Interstate 5 and CA 33 is a 22-mile razor-straight run right into Maricopa. It was hard to keep the bike near the 55 mph legal speed limit, as I sped past countless vineyards and new orange groves. I loved seeing the new groves. Could it be the dying petroleum industry around Maricopa has discovered agriculture? If so, perhaps it could mean new life for this tiny town, which is, by all accounts is nearly dead, starved by a lack of oil production.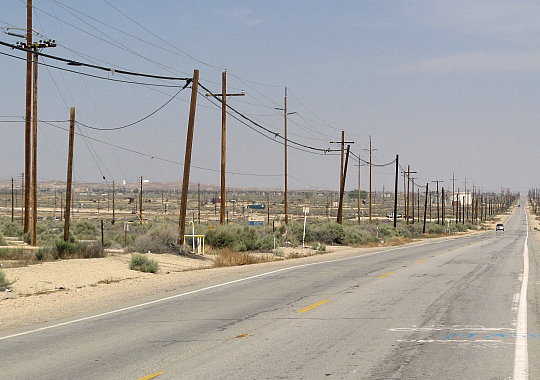 I downshift quickly past the big Shell station and turn right onto CA 33. The street is dusty and hot, with deserted buildings stretching past the tiny police department offices. I slow down, because amongst the decay exists a bright spot, known as "Tina's Café."
Tina's is an awesome little place, full of local atmosphere. The walls are covered with displays of all sorts, from dolls to pictures. It is the kind of place the touristy corporate restaurants try to emulate and fall short, for so many reasons… Getting off the bike and stretching, I say hello to the old men eyeing me from the benches in front of the café. They smile and ask some questions about the RT: "What kind of bike is that?" "Looks fast, to me!" and the most common question, "I didn't know BMW made motorcycles!"and on we go for a few minutes of delightful conversation.
Excusing myself, I go inside. Tina recognizes me because I've been here before. As usual she sings softly to herself, and laughs easily.
I am a breakfast eater. In fact, after a good breakfast, I can usually go the rest of the day without another full meal. Tina delivers on the great breakfast! The eggs are cooked perfectly to my liking, the bacon is thick and juicy, and the hash browns are extra-crispy, just as I like them. It's probably a good thing Tina's Café is a three hour ride from my house, or I'd probably have to rent some space at the cardiologist's office!
Tina and I share some conversation and I tell her I must come back for dinner. She laughs and says I am missing out! After saying goodbye, I waddle out and throw a reluctant leg over the saddle, eager for a great ride.
CA 33 stretches out before me for seemingly endless miles. The oil rigs look like dinosaurs as their enormous beaks seek their food deep under the earth. The riding is wonderful! The road goes on and on, as I smile under my helmet, grateful for high speed, good food, and the thrill of the adventure ahead! I cannot help but think of my cousin Lonnie, who was a wildcatter up here on the oil rigs. He died way too young, the victim of an aggressive skin cancer…but I am sure he was watching and smiling as I sped through the places he lived his life!
Downshift and begin slowing about five miles out of Coalinga and avoid a California Good Drivers' Certificate. Coalinga is a quintessential Central Valley town; a small town atmosphere, mom and pop stores, and agriculture is king. I stop for gas at the Chevron which has a great little deli which is worthy of its own write up. Not this time, as I'm eager to blast west on CA 198.
CA 198 is a tremendous moto-road. It races, dips, and twists through the coastal mountains to US 101. Local riders must have an absolute blast up here; pay attention; there are a few technical spots at the beginning, but for the most part it's a delightful romp through the mountains.
Eager for more adventure I point the big BMW south to Jolon Rd which eventually takes me into Fort Hunter-Liggett. Since FHL is an active army base, make sure you have your DL, proof of insurance and current registration. If you have these documents you can ride Naciemento-Fergusson to CA 1.
To describe Naciemento-Fergusson wreaks havoc on this writer's puny literary skills. The road defies description in that it is a singularly beautiful hour's jaunt to the ocean. Tall, rugged mountains, huge redwoods, narrow switchbacks, majestic oaks, soaring hawks, and coastal fog clinging desperately to the rugged, golden-brown hillsides-it's all there for you.
There is nearly zero traffic here, butcareful on the many blind curves. There are no guardrails, and the ocean is a long way down! Make sure your bike is in great condition and is full of fuel too!
Once you empty off of NF Road, you have the choice to ride north toward Big Sur, or south toward Ragged Point and Hearst Castle. I flipped on my left blinker and headed south to lodging in San Luis Obispo…even though the ruggedness of the Big Sur slowly recedes in my mirrors there are many, many miles of incredible coastal beauty to still see. Check out the elephant seals, visit Hearst Castle, and go to the scenic little town of Morro Bay if time permits.
By 5:30 p.m. I was feeling good but tired. I pulled into the Motel 6 South in San Luis Obispo for a quiet night. I slept like a rock all night, no doubt dreaming about the roads I'd ridden and the food I'd eaten!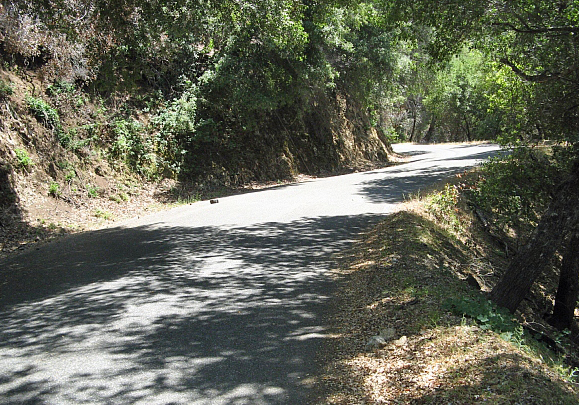 Not much of a ride tale for Sunday since I just planned on riding south on US 101 to home. However, breakfast at Zaki's was a treat. Zaki's is located on Los Osos Rd at US 101, right next to the Am Pm Mini Mart. Well worth checking out!
"Zaki's Golden Waffle" has been in business for about a year, and their reputation for serving awesome, hearty breakfasts is beginning to spread! While the building's exterior lacks a certain curb appeal, it hides the tasty treasures one finds inside!
Zak, the owner is a great guy who truly loves his customers and good food! He greets every customer with a smile and a handshake. Zak is legit, and when you walk in you know you are a friend!
The food is tremendous. I suggest you go straight to the waffle, egg, and bacon combo. Fantastic! The waffle reminds me the ones my mom made; crispy and golden on the outside, and light doughy on the inside. Zakis is one of the few breakfast places around that cooks my eggs exactly as I like them, which is over medium. The yolks are slightly runny but the whites are firm and nicely seasoned. Ditto for the bacon. Not burned, but crispy . This great meal will set you back about 11 bucks if you leave a generous tip; and it is so big you can easily share it with a friend and still leave full!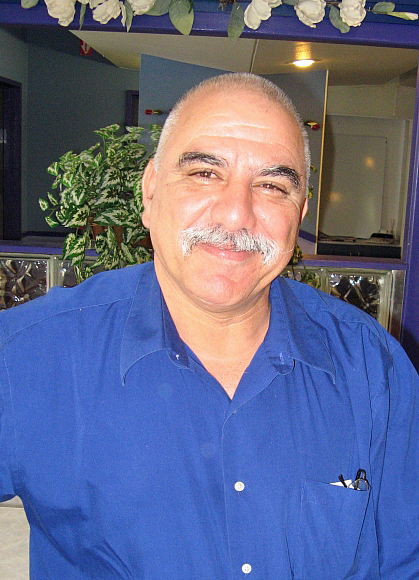 And, to top off the package, the coffee is hot, the cup is always full and the waitstaff follows Zak's lead by being cheerful and very attentive in a down-home way!  Here's a pic of Zak…say hi to hm when you stop in..
When in San Luis Obispo, "Zaki's Golden Waffle" is a must-stop breakfast place. If you are disappointed in your meal, you can buy me lunch!
Thanks for coming along, and see you on the road.
Steve