I recently had an opportunity to go visit my son and his family in Boise ID.  I decided to explore US 93 which, for me,  started north of Las Vegas and conveniently dumped me off on I-84  a couple of hours south of  Boise.  (US 93 technically starts in AZ, but since I was coming from the Los Angeles area it was easier to head north and start from here.)
US 93 is a long, lonely highway. Because the weather was so inclement, the weapon of choice was my 2013 Subaru Outback. Â With temps in the low forties, and howling wind, riding Bikeopotamus seemed an unwise decision.Add to the mix that the already volatile weather was getting worse and lack of support if I encountered a breakdown, put me solidly behind the driver's wheel for this trip. Â BTW, the Outback is an awesome vehicle for exploring! Â But, I digress….
Since US 93 is so isolated, a few tips for the rider, in no particular order are offered. Â Bring water, a fully charged cell phone, and some food. Â Make sure your tires are in good shape before you depart. Â There are no motorcycle services, to my knowledge, Let someone know where you are going. Â There are several sections where fuel is in short supply, yet gas if available especially if you have the range of Bikeopotamus:
Most motorcycles don't rock 350 miles to a tank, Â so get gas accordingly-there are several towns along the way, as well as major stops in Ely, and Elko NV. Â Another tip is, stay on US 93 and head east when it splits off for the "Alien Highway." Â This section of US 93 is very scenic and a great diversion is to continue northeast into the Great Basin National Park. Â Extremely rugged and remote, it is the least visited of all our National Parks, and it is a beautiful as it is remote! Â Oh, and one final tip…you can pretty much go as fast as you want, but within ten miles of any town, slow down. Â Wells, NV is a great place to get a Performance Riding Award, though I haven't personally had the pleasure!
So, your bike and tires are in good shape, you have lots of water, a patch kit, a cell phone and some food….here is where you'll be going: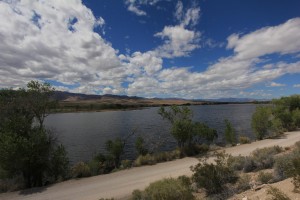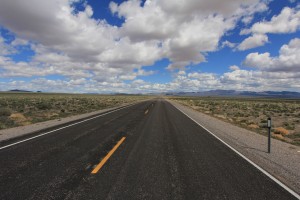 When you are ready for a break from all the awesome exploring there is to do, Ely NV makes an accessible spot for a night's rest.  Get off US 93 and take Aultman Street  "downtown."  As you enter the downtown area look for the Best Western at 930 Aultman Street.  A few blocks up is good Chinese as well.  Check in, and go check out some pretty good Chinese food at "The Happy Garden" on Aultman.  The hotel directly across the street from the Chinese restaurant serves a great steak, but way too much cigaret smoke inside for me!
Fed, rested, and restored you can continue north on US 93 or turn west on US 6 for more incredible riding.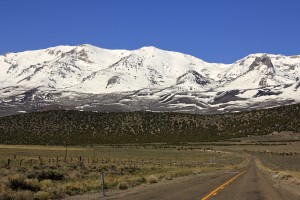 Have fun!
Steve