It was Spring Break and sunny Mexico was calling my name.  I cleared my idea of  a multi-day ride with the ever-so-lovely Jennifer, and began making serious plans.  Thru the internet, and www.advrider.com, I invited Steve, Ed, and Rich to ride with me down through  Baja.  I  had a total of nine days to check out the countryside, eat the food, sample the pina coladas, and find out if what they said about the legendary Mexican hospitality was true.  Here's the spoiler…it definitely was true!  Everywhere we went we were greeted warmly.  Even by the soldiers at the numerous checkpoints along the way!
So, let's start at the beginning….I've always wanted to see Mexico by motorcycle so I figured a relatively quick trip down through Baja would at least give me an inkling about whether I wanted to pursue more elaborate plans for touring south of the border. Â My main concern was safety. Â We are inundated by the horrific tales of violence, and I wondered if by going I was putting my life in serious jeopardy. Â So, I read books, checked articles on the internet and got lots of good advice from my friends at www.advrider.com. Â After talking to folks who had ridden down, I knew nothing would dissuade me from making my own "voyage of discovery!"
Soon it was time to go. Â Ed and Steve showed up from points north in the Pacific Northwest and we set about packing the bikes…
Ed and Steve seemed to have more to pack, especially Ed. Â For the ration of crapola that we gave him, Ed remained good natured!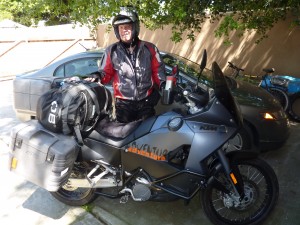 Where are you going to put all that s….er "stuff?" Â Ed asks Steve. Â Ed, of course, was a fine one to talk. Â Notice he appears to be packing a full size Weber BBQ in that dry bag!
We got along famously! Â Neither Steve, Ed nor I had ever met before this trip…ah, the beauty of the internet. Â I, like the other guys, was hopeful that we'd all get along. Â Would we have the same riding styles? Â Want to stop at the same places? Â Snore?? Â As it turned out, two outta three wasn't too bad! 🙂 We also had some conversations with Rich from Altadena and he joined us as well.
The next morning we picked up Rich, from Altadena and we had a great send off breakfast. Â In the pic you see Steve D, my incredible wife Jennifer, Rich, and Ed. Â We hit the road, intending to shoot east, then south to CA 111 past Salton Sea as Steve had never seen it. Â I got to be tour guide. Â Later, in Mexico, Rich assumed that role as he'd ridden in Baja many times.And, just for the record, Ed is a retired Nike exec, Rich is a retired cop, I am an elementary school principal, Steve D is a high school assistant principal and general all around adventurer, and Jennifer, the love of my life, gives me the inspiration to reach beyond my limits. Â I love you, Jennifer!
Salvation Mountain is the testament of an 80+ year old man and his artwork. Â Built of straw bales, clay, and donated paint, Salvation Mountain is definitely a must see spot on your way through the Coachella Valley. Â Directions? Â In the middle of Niland find the stone house and turn left. Â Go a few miles toward Slab City, and there you have it!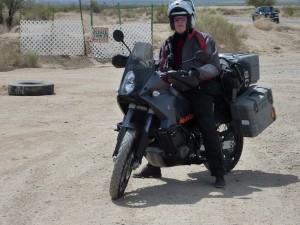 CA 11 is wide open, spanning countless acres of food, cotton, and wine crops. Â Fortunately the temps held down as we rolled into Calexico, CA, which was our border crossing… Â One last chance to eat American junk food, buy fuel, and then head south! Â I wished I'd passed on the Burger King. Â The food was ten times better south of the border.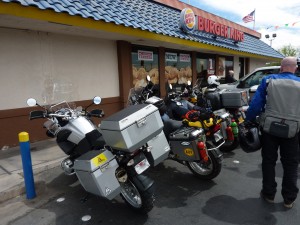 And then, just in a blink of an eye we crossed from wealth to poverty. Â We didn't even need to slow down for the Mexican authorities, just friendly waves from them and presto! we were in Sunny Mexico. Â Actually we were engulfed in a steaming, choking hoard of cars most of which belched smoke…fortunately, the signage was pretty good, and we located the lanes we needed to occupy if we were to find San Felipe for the evening…
Mexicali is a huge city, and all of it seemed to be out on the streets as we rode thru.  Teaming masses of people laughing, selling goods, yelling at drivers, and just generally on the go.  Potholes big enough to swallow a small dinosaur, unmarked road hazards, and taxis driven by seemingly blind guys kept us busy, and our  eyes on the road.  All road signage and signals were purely optional, as far as I could tell…Still I could not escape the vibrancy, color, and excitement of Mexicali.
It would have been fun to stop and have some "Comida Chinesca," but we needed to keep moving south. Â Mexicali has a robust Chinese-Mexican community that has survived since the first Chinese immigrants came here for work in the 19th century. Â A few years I led a group of riders here for Chinese in Mexico, and I located a Chinese restaurant that had been in continuous operation for nearly one hundred years.. Â They served a delightful plate of food that could be best described as Chinese-Mexican fusion. Â Delicious!
Not this time. Â Soon we cleared this huge city and were headed south towards San Felipe!
Notice Steve blitzing by me. Â Check out the angle of his GS. Â Yep, here is where our constant friend, the wind, first came to visit us! 🙂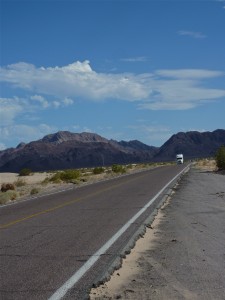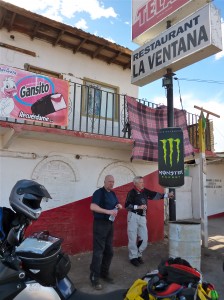 We took a breather at "La Ventana" for a quick Mexican soda pop. Â I don't drink beer, but am a huge fan of Mexican soft drinks. Â They are sweeter, and have a "spicy" aftertaste. Â Could it be because they are made with cane sugar rather than high fructose corn syrup? Â Soon we were back on the road, enroute to San Felipe, BC. Â Rich found us a great place to stay, right on the water.
I found San Felipe to be depressing.  In my younger days I spent  lots of time here, hiking, racing my Hobie Cat, and generally having a good time.  Now, the streets are deserted, there is little building going on, and many places are out of business…  In "El Nido," an excellent steakhouse the waiter told us the crowds of tourists were gone, scared by threat of drug violence.. He implored us to tell our friends that not everything you see on TV is happening everywhere in Mexico!