One of our favorite "mini" trips is to ride the Filmore-Ojai-beach route.  From Glendora we do our short hop onto the I-5 to CA 126 and head westbound.   CA 126 is a pretty nice little ride; not much traffic as we scoot through seemingly endless miles of avocado and orange groves.  It's a great destination by itself if you are looking to buy fresh produce; there are several great stands along the way.  We favor "Cornejo's," which is nearest to Filmore.  Today, we were looking for a good lunch and a ride to the beach, and we did it on four wheels rather than two… J
 
We found the great food at "Yanni's" right in the middle of town.  Yanni's features Greek, American, and Mexican food in a very clean, cheerful atmosphere; you order at the counter from a person who actually smiles at you and then you find a seat.  From here on out, they serve you, which is nice.
The food was great!  J had a vegetarian gyro which was loaded with fresh, hot, olives, tomatoes, zucchini, onions, and a few other yummy veggies.  J reported it was one of the best hot veggie sandwiches she'd ever eaten!  For me, I tried the pastrami sandwich, double-dipped.  The pastrami was very lean with a smoky after taste which was quite good.  If you enjoy "The Hat" for pastrami, you'll like Yanni's, though this pastrami is trimmed much closer.  To me, the smokiness of the meat combined with a healthy dollop of honey mustard did the trick!
Yanni's rates another visit.  The breakfast plates looked awesome, particularly the 7 oz rib eye and egg combo for $7.50, as did the Greek combo plates.  We'll be back!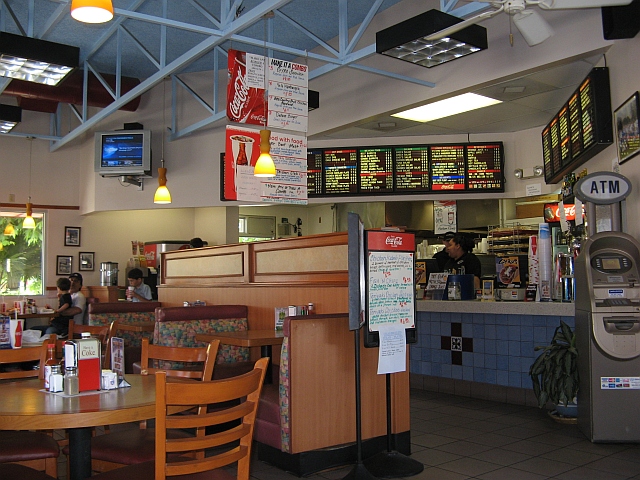 Anyway, Yanni's is a worthy stop if you find yourself in Filmore.  It is a welcome break from the fast food places that line CA 126 through the center of town.
We continued up CA 126 to CA 150 and headed toward Ojai.  Very beautiful scenery as the road dips and twists through canyons and past scenic vistas of the Ojai valley.  Exercise caution as road construction is going on at the last set of curves before descending down into Ojai Valley.  Lots of sand in the apexes…  From here, we cruised through Meiners Oaks, a sleepy little village next to Ojai, and then out to Lake Casitas.
This is great riding country, but show some restraint with the right wrist.  This section of road is pretty heavily patrolled by the Ventura Co Sheriff and CHP.  We saw several dejected riders receiving performance awards…ouch!  Besides, what's the rush?  The scenery is gorgeous, hawks wheel through the sky, and the lake views are crystalline.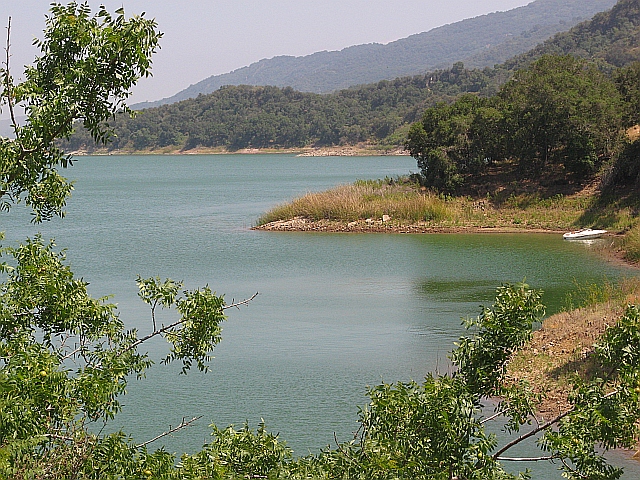 CA 150 finally spills out onto the coast at Carpinteria.  J and I parked and walked around town for a bit.  It was fun being a tourist, just stretching the legs and checking out the beach scene.  Carpinteria bills itself as having the "world's safest beach."  I don't know if that's true, but it is a great beach to play on…especially if you have small children.  The beach is very flat with no drop offs, and the surf is negligible-very easy to launch a kayak as well!
And that was it!  From here we simply jumped on US 101 and ran straight east, back to Glendora and home.  An hour later we were pulling into our driveway, with big smiles, and happy to share this adventure with you!
 
Details:
Yanni's Restaurant
736 W Ventura
Filmore CA
805 524-1501