Well, new to us, at least! Â Jennifer and I bought a 2002 R1150 GSA from a very good friend a couple of months ago and we are really enjoying it! Â I don't normally name my motorcycles, but if I did, "Bikeopotamus" would be it! Â The big black GSA is a tall, heavy motorcycle that can take us pretty much anywhere we want to go!
We've done a few modifications to make Bikeopotamus a more comfortable sport touring machine…We recently rode to Ojai and had Bill Mayer Saddles make us a new seat.  We'll post some pix soon!  We also slipped on some Shinko dual sport tires.  So far they are great on the upaved   Southern California roads we have around here, and they seem pretty durable as well.  We've ridden the bike about 6,000 miles since we purchased the first week of April, and so far the tires are doing great!  A Cee Bailey's windscreen rounds out the comfort accessories…at speed, the CB wraps the wind around my head rather than buffeting it all around.   Thanks, Steve Clavin of Cee Bailey's.  You rock!  Finally a "Versa" LED brake light modification  from www.aerostich.com will hopefully keep some driver from riding over the top of us from behind.  Those eight LED lights are really bright!
Here is a pic, taken up in the local San Gabriel mountains…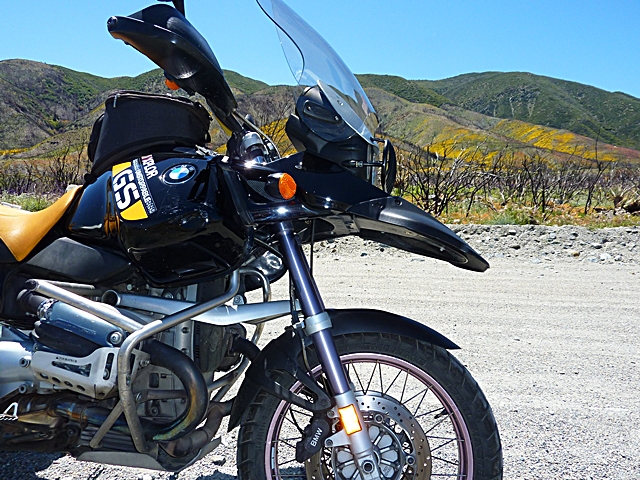 See you on the road, and ride safely!
Steve and J