The storm front blew through with crashing thunder and blazing lightning, leaving in it's wake blue skies, moderate temps, and clean crisp scenery. Â It couldn't be better for a short cruise through the mountains!
For us, early is 9:00 a.m. Â We hopped on Bikeopotamus, our '02 R1150 GSA, thumbed the starter and headed up Interstate 15 to CA 138 and Lake Silverwood. Â Awesome twisties and very little traffic-soon we were in the groove, blasting along the straights, braking before the curves, and accelerating through the apexes, eager to devour the next ones…The big GSA is at home in this environment, and with it's high clearance even two up we get some amazing lean angles!
Here is Lake Silverwood, looking north towards the desert. Â Not too many boats on the water as it was pretty windy, and there was still a threat of lightning….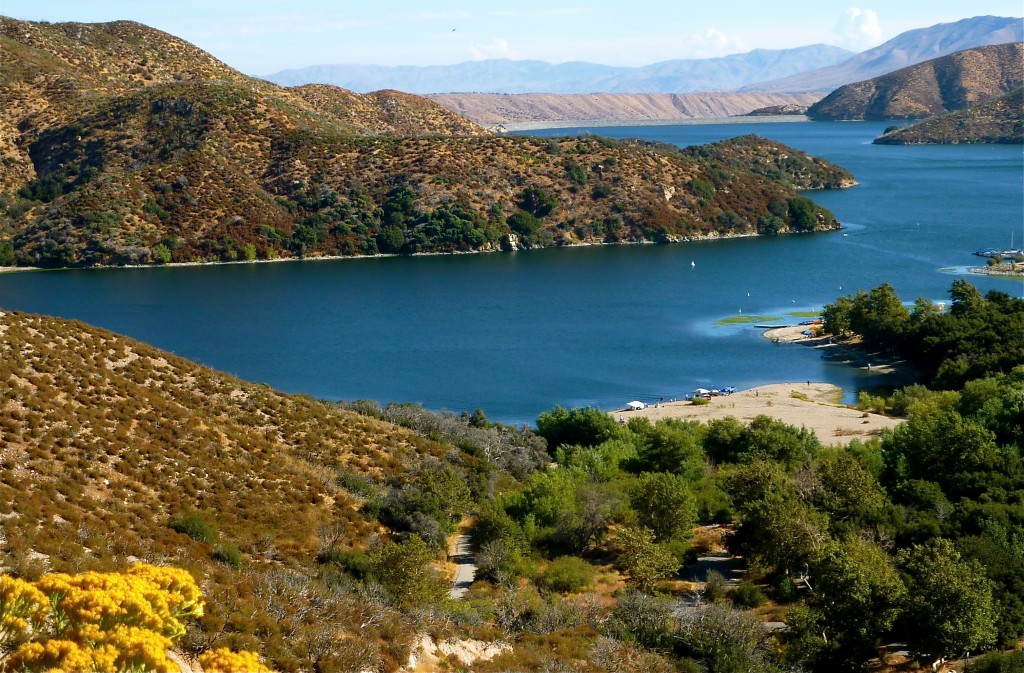 Continuing east on CA 138, the desert scrub gives way to pine trees and cooler temps. Â We opted for "Old Mill Road" as an alternate route. Â This street had zero traffic, great asphalt, and some pretty tight twisties. Â Awesome! Â Soon we found CA 18 and continued to head east toward Rim Forest to the "Original Cottage" restaurant.
"The Cottage" is a local eatery populated by working people, the occasional tourist, and semi-surly waitresses. Â Breakfast is excellent and huge. Â The breakfast scramble, or "Farmer Boy," I believe it's called is a giant mess of eggs, potatoes, bacon, gravy, ham, etc, etc, that is enough food to feed a small eastern European country. Â The biscuits are wonderful, flaky, moist, and warm out of the oven. Â I didn't try the pancakes, but they are about 14″ across and contain about a half pound of blueberries. Â Jenn and I often stop here for breakfast, and we've yet to be disappointed by the food! Â Here are a couple of pix…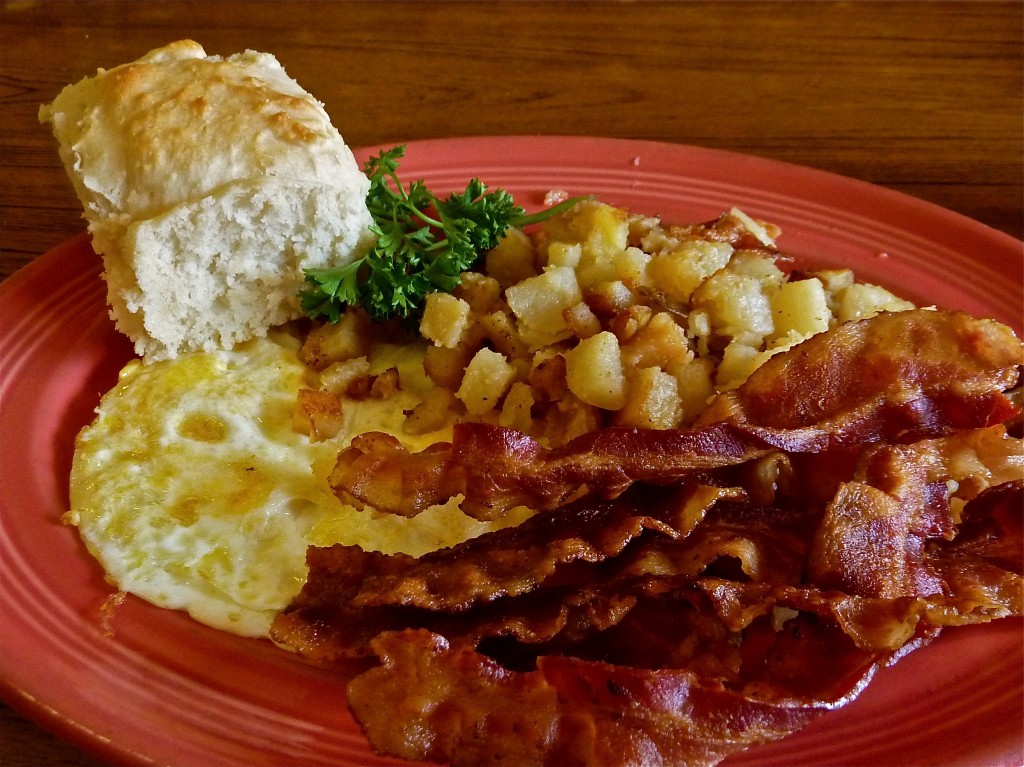 Here is a close-up of a soft ball sized biscuit…
And, of course, here is the end result of my labors…
Any way, if you are really hungry for a hearty breakfast and don't mind the resulting food coma, ride on up to the Original Cottage Restaurant, located at 26545 State Highway 18, Rim Forest CA. Â You can call them at 909.337.1212 if you need more info! Â Just don't tell your cardiologist you are eating here.
Bloated, we hoisted ourselves onto the big GSA and decided to head up to Big Bear Lake.  The ride  to the Lake is spectacular, but, as usual, watch out for traffic and be especially wary of debris in the apexes, especially after a heavy rain.  Also, remember there may be considerable delays at the dam as they are retro-fitting it.  Once we downshifted thru the traffic we accelerated into Big Bear City, around the lake and onto CA 38, which is the back way to these mountains.
If you haven't had a chance to try CA 38 you should!  Almost no traffic, lots of very fast sweepers and a good number of tight twisties as well before you drop down into  "Mentone Beach, CA."  Mentone should be a separate entry, so I'll save that one for later!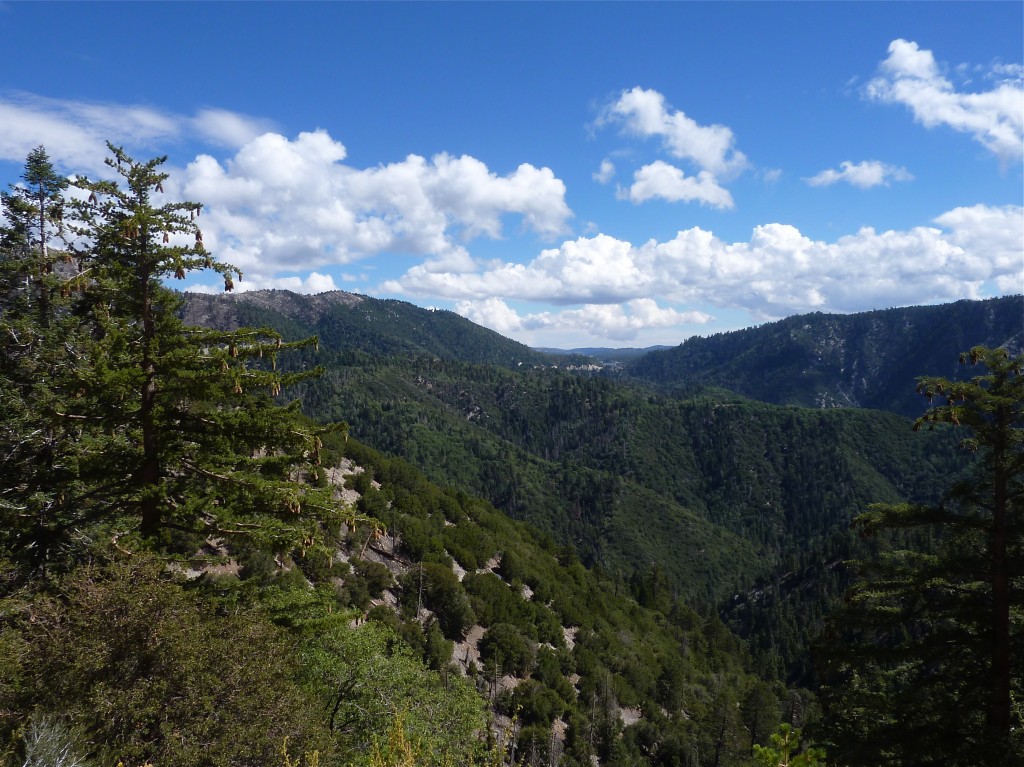 So Cal has  wonderful roads!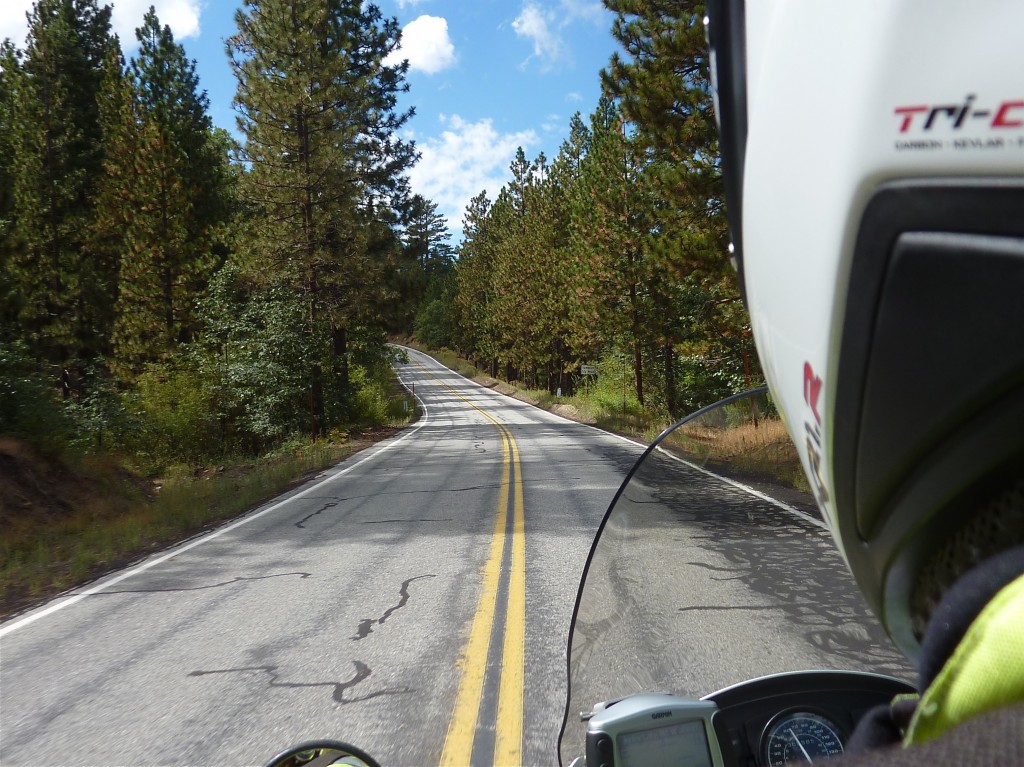 About four hours after we left Glendora, we arrived back home. Â We definitely accomplished our mission to ride some very cool roads and eat some good food. Â As usual Bikeopotamus did a superb job of hauling us at speed safely and comfortably; we can't wait for the next chance to go exploring! See you next time!