One of the best things about living in Glendora CA is being five minutes away from some incredible motorcycle riding.  So, after taking care of some household chores, I fired up the R1200RT and headed north into the foothills for some semi-spirited canyon carving!  First, up Mt. Baldy Ave (you access this north of the city of Claremont-take Indian Hill, Padua or Mountain to get here) up into the mountains.  Surprisingly, there wasn't much traffic for a Memorial Saturday.  Hey, fine with me as the RT lit up the canyons…
Mt Baldy road climbs steadily into the mountains.  The smog gives way to clean, pine-scented air, and the temps drop a bit.  Just north of Baldy Village the road becomes a one way affair past the "Movie Slopes" made famous as a movie location in the 1930's.  Check out the little café here…prices are reasonable and the burgers are pretty good.  Didn't stop to eat this time, so you'll have to trust me on this.. 🙂  Continuing north the road narrows.  Downshift and ease carefully into about seven or eight serious hairpin turns before the road ends at the chair lift.  I stopped for a couple of minutes to take in the fresh clean air and then headed back down to the village and the beginning of Glendora Mountain Road (GMR).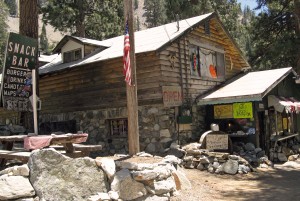 Before you jump onto GMR, The Mt Baldy Lodge is a great place for a glass of iced tea!  And, if you are looking for a weekend getaway, the Lodge also rents very quaint rooms.  J and I checked them out, and they are nice-fireplaces, front porches, etc.  Cost is around $90 and up depending on what you want…  Anyway, back to the ride!
And that was about it!  Total miles was about 40, but there were about 9 zillion curves in those 40 miles…well, perhaps I exaggerate a bit, but if you are in So Cal and looking for a  great moto road, GMR has it all!
GMR is a fantastic moto-road!  I sort of hate to "out" it here, but those who know GMR are faithful visitors every weekend.  And, what's not to love?  Super twisty, great views, and very clean, most of the time, it's not a fast road, but really fun to ride…
Happy Riding!
Enjoy it before it gets too warm up in the canyons!
See you on the road…
Steve