Twice a year, in the fall an the spring, a group of friends, most of us belonging to www.bmwsporttouring.com, ride to Torrey Utah for great roads, fellowship, and fun.  I was really excited to attend the May bash because my lovely wife, Jennifer said she'd come along.  J is an accomplished pillion, having ridden probably 60,000 miles with me on the  back of our various BMW motorcycles.
So, last Friday we saddled up for the long ride to Mesquite, Nv for our first night.  Maybe it's the recession, but the traffic out of the LA area and 0nto the 15 NB wasn't too bad.  And so it went…we blasted up the I-15, only nearly getting killed by errant drivers twice.  Not bad for the hordes of caffeinated cagers who roar north in search of the pot of gold known as Las Vegas.  We pulled into Mesquite around nine p.m. and stayed at the Falcon Ridge Hotel.  Note:  Garmin says the address of this very nice place is on Mesquite Way.  Not so, grasshoppers…it's up on the western cliffs, clearly visible from the freeway!
You'd think J would be tired, but not the case…"Honey, let's go eat ice cream.  I think I spotted a Baskin Robbins down the street." I replied, "Yep, I saw one-it's about a mile down the road."  So, after riding 298 miles in 90+ degrees heat, we walked to BR.  The ice cream was delicious.  What more can I say?
The next morning we knew the ride would be hot…so up at 5:30 a.m. and downstairs for the hotel's breakfast.  Not bad!  The waffles were very good and the fruit was fresh.  We passed on the eggs-not too attractive to either J or me.
We were on the road by 7:00 a.m. and hurtling toward Utah 12 and riding nirvana. Finally off the freeway we climbed up into the mountains.  Believe it when I say the snow was refreshing after riding through the blast furnace we call the southern deserts!
Utah 12 is a remarkable road as it dips and twists ever higher into the mountains…. Gradually the hot desert gives way to pines, grassy meadows  and phenomenal views in the distant Wasatch.   Traffic is light and we dance through the twisties; it's a testament to engineering that the RT feels so light and nimble in this environment!And so it continues, all the way down to Utah 89.   By now my co-pilot is hungry, and she's ready to stop.  We pull into Hatch, Utah at the Adobe Cafe.  What a great little eatery!   J and I shared a shared a fresh veggie sandwich on a hoagie roll and an order of the best french fries we've ever tasted. I spoke to the chef, who told me his secret:   the fries are dipped in beer before frying!Well, as great as the fries were, the "Laredo Tornado" was the coup de grace…a big bowl of very rich ice cream garnished with whipped cream, caramel and crystalized cinnamon sugar surrounded by fried rolls stuffed with apple and cinnamon.  One bite, and I knew I'd entered heaven on earth…phenomenal.  J helped me eat it, but I'll take credit for pounding most of it down.  The Adobe Cafe is a place you need to try while cruising through Hatch Utah! Just remember to slow down, or you might miss it.  Back on the road, hunger satisfied, we rode through the fabulous red rock of Bryce Canyon and into Escalante.  Magnificent views that last forever practically force you off the bike for pix and visiting with the many foreign visitors who share the turnouts with you.  Of course, the Germans are very vocal about our choice of motorcycles!  A group of elderly Germans poured out of their motorhome and waxed eloquently about the virtues of BMW, and they all invited us to visit them if we ever get to Germany.  Is there any other way to travel than by motorcycle?  I doubt it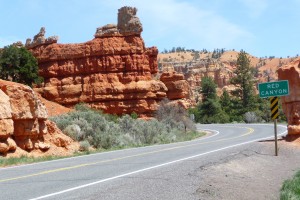 Did you ever overdose on incredible roads and scenery?  So it was for J and I by the time we finally turned onto Utah 24 and Torrey.  We pulled into Torrey, yanked the gear off and had some dinner at the "CW" deli and country store.  After pastrami sandwiches and some veggie dishes we were ready to enjoy our friends and relax.
Torrey is a wonderful place to visit.  Many thanks to Al for checking out my headset, and the boys and girls who joined us at dinner for some tall tales and laughs!  The pictures of the "Clamato Kid" will have to wait for another story.  I'm sure "The Kid" is grateful for that…We cannot wait for September and our next Torrey visit!
The next morning we fired up the RT and blew out of town with Brian, Carl, and Jerry.  They are much faster riders than us and soon we were riding alone, savoring the incredible red rock, blue skies and fantastic greenery of the land around us…And about the rest of the ride home on Sunday, you might ask?  It was HOT, over 114 in Baker.  Still J and I powered through, kickstand down around 6 p.m., after a nearly 10 hour ride.   It was a long, hot, ride home, but when I think about being able to see old friends, and make some new ones, it was worth it!
See you on the next adventure!